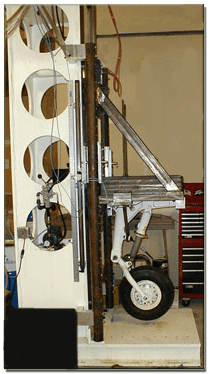 ATS provides aircraft landing gear drop-test services up to a test weight of 20,000 lbs. Several drop weight carriages are available to accommodate a variety of landing gear including main, nose and tail gears.
The test facility is computer-controlled and instrumented to acquire multiple kinematic and article performance data streams at rates up to 10 kHz. All typical customer sensors may be easily interfaced. Standard vertical position and acceleration data is transferred from sensor digitally for minimum noise. Vertical position is measured to a precision of 50 μm at
1 kHz, allowing many kinematic parameters to be calculated directly.
Our advanced hydraulic positioning system enables easy and rapid test operations. The vertical position of the test article can be controlled to less than 0.1 mm for precision configuration and testing.
The test system also provides automated tire-spin provisions to a pre-selected RPM just prior to dropping the carriage, providing a means for spring-back load test requirements.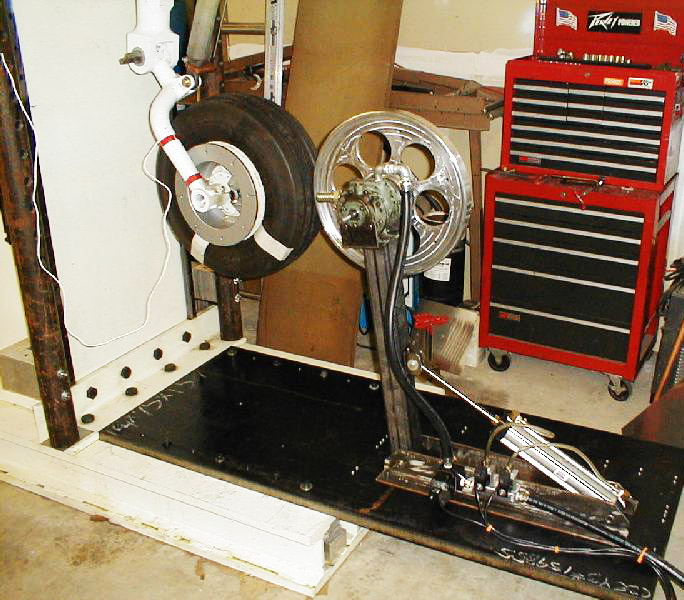 Integrated, custom test control and data acquisition software maximizes efficiency of operations and provides immediate display of data during the test for evaluation and quality control. ATS can tailor the data acquisition configuration and software for your test plan and requirements.
Contact page
Copyright © 1999 – 2019, Aeronautical Testing Service, Inc.